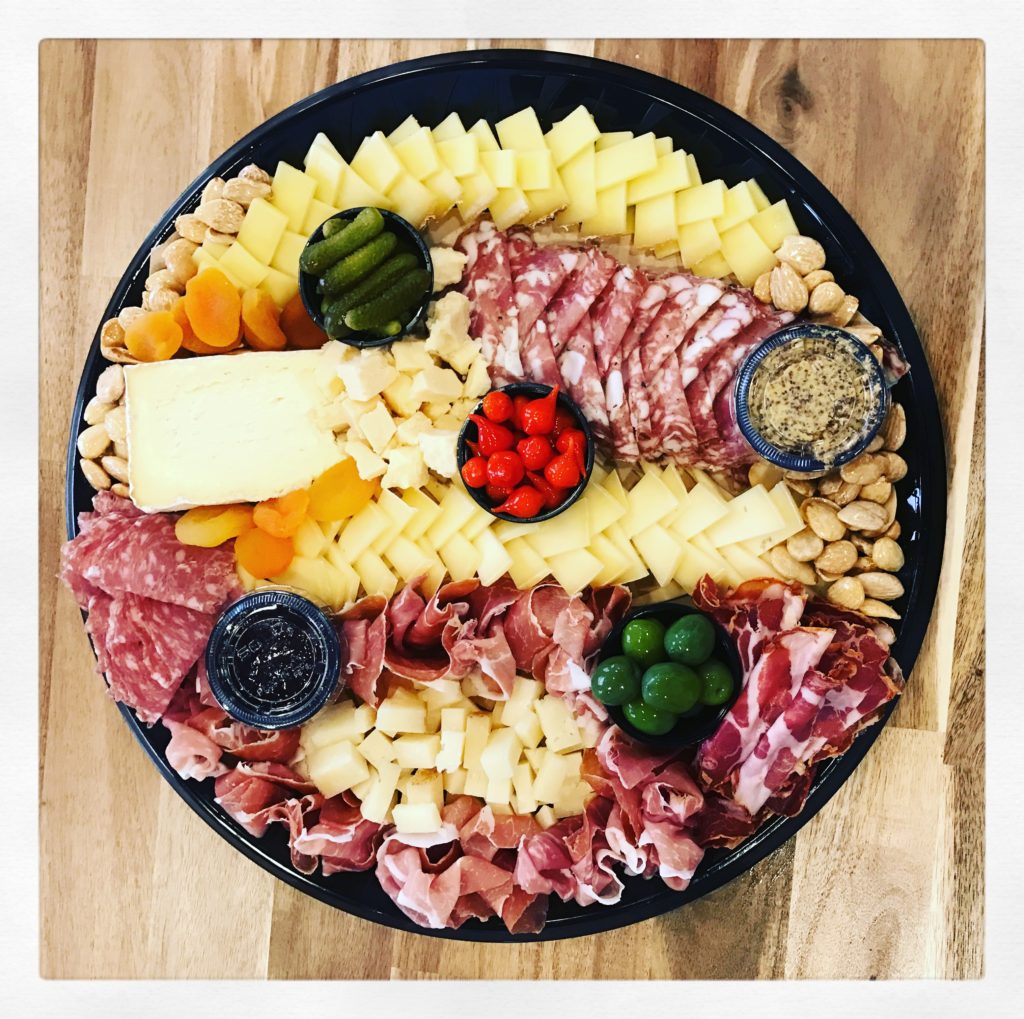 Let us cater your next event!
Boards are priced for pick up at Share Cheesebar, 6105 Ridge Ave. in Pleasant Ridge.
$50 refundable deposit for use of our cheese boards.  Boards must be returned in 1 week for full refund, no exceptions.
You may bring your own board if you choose to not use ours, no additional fee or deposit.  Boards must be brought in 24 hours in advance of pick up.
Sleek, black catering (reusable) plastic trays can used rather than wood boards at $5 each.  These do not have to be returned.
Every board comes with name tags to identify cheese/charcuterie.
All preferences will be considered; more expensive cheeses will have a supplemental cost.
Cheese Boards
Small - $60 - 3 cheeses, serves approximately 10-12 people
Medium - $75 - 4 cheeses, serves approximately 14-16 people
Large - $90 - 5 cheeses, serves approximately 18-20 people
Party Time - $130 - 5 cheeses, serves approximately 25-30 people
Each cheese board comes with fruit, preserves & olives & nuts
Cheese boards include 3, 4 or 5 half pound pieces of cheese
Serving size is based on 2 oz. of cheese per person
Serving size is based on other food being served in addition to our cheese boards
Each platter will have an assortment of tastes, textures and milks.
Charcuterie Boards
Small - $60, serves approximately 8-12 people
Large - $90, serves approximately 13-20 people
Charcuterie boards are beautifully arranged and include 1 terrine, 2 types of cured meats, cornichons, olives and spicy mustard.  Accouterments may vary on seasonality and availability.  All trays are custom and no two are alike.
Cheese & Charcuterie Boards
Small - $75 - serves approximately 10-12 people.  4-quarter pounds of assorted cheese, 2-quarter pounds of charcuterie, dijon, cornichons, olives, marcona almonds & preserves
Large - $110 - serves approximately 18-20 people.  1.5 pounds of assorted cheese , 2-quarter pounds of charcuterie, dijon, cornichon, olives, fruit, macrona almonds & preserves